Up to ten people have been killed after a newly-installed pedestrian bridge collapsed in the Miami area of Florida, a US Senator has said.
The 950-ton span fell on Thursday afternoon at Florida International University's main Miami-area campus.
Emergency personnel searched for signs of life amid the wreckage of concrete, twisted metal and that rained from the collapsed structure and crushed vehicles on one of the busiest roads in the region.
Eight vehicles were trapped in the wreckage and eight people have been taken to hospital, officials told a news conference.
US Senator Bill Nelson of Florida told local TV station CBS Miami that between six to 10 people had died, Reuters reported.
The Florida Highway Patrol previously said several people were killed but did not release a figure on fatalities.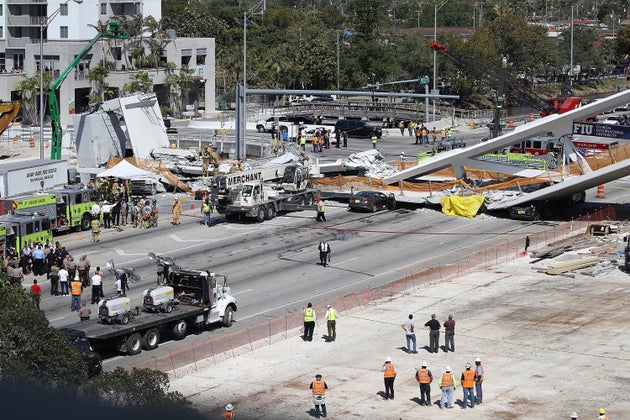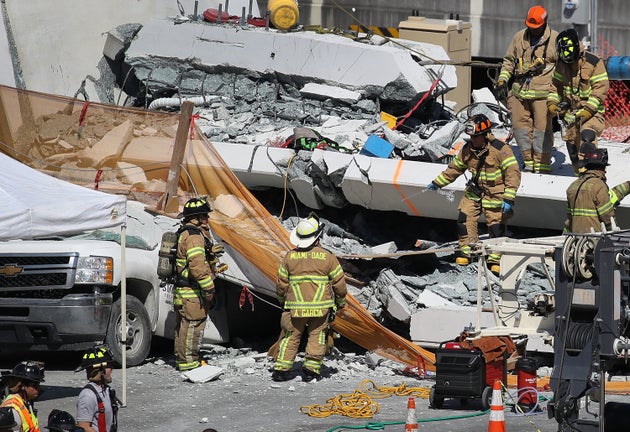 The bridge was only lifted into place on Saturday and was still under construction with completion expected by early 2019, according to the school.
Cars were stopped beneath the bridge at a traffic light when it suddenly gave way, the Miami Herald reported.
Photos posted on social media show at least five cars trapped beneath the bridge. Most of them appear to be completely covered by the fallen debris.
An emotionally distressed Mario Valdez was interviewed by WSVN at the scene and said that he'd heard his friend was walking beneath the bridge when it abruptly collapsed on him.
"He was crossing the street at the moment that the bridge was coming down," Valdez told the local station. "He was rushed to the hospital. I don't know. I'm just so worried."
Students at the university are currently on their spring break vacation, which runs from March 12 to March 17.
Television footage showed firefighters were walking across the flattened wreckage and medics treating injured people.
Emergency personnel appeared to be trying to work their way through a hole in the top of the bridge.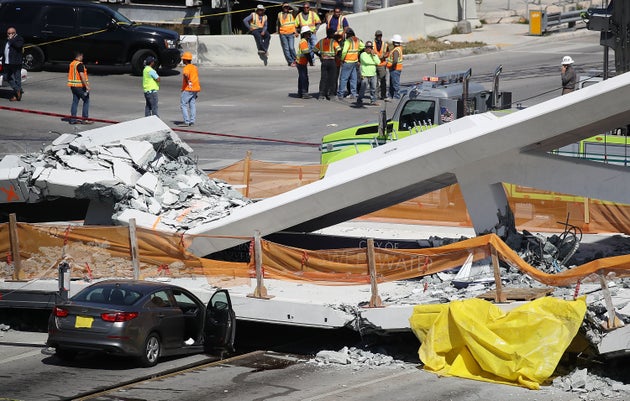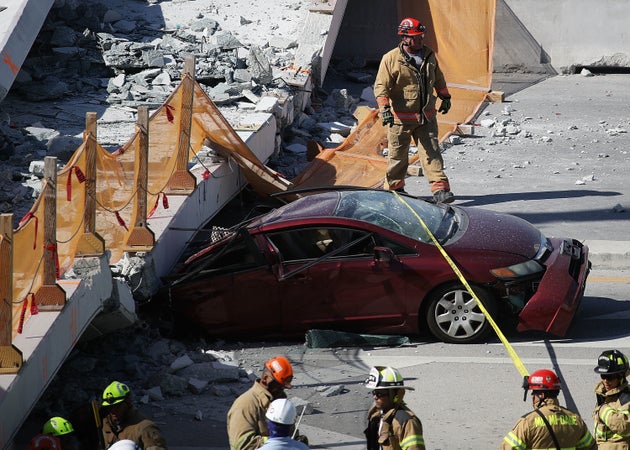 Munilla Construction Management, which installed the bridge, said in a statement on Twitter that the bridge suffered a "catastrophic collapse causing injuries and loss of life."
"Our family's thoughts and prayers go out to everyone affected by this terrible tragedy. The new UniversityCity Bridge, which was under construction, experienced a catastrophic collapse causing injuries and loss of life," the statement read.
Munilla Construction Management was awarded the $9.3 million bridge project in partnership with FIGG Bridge Engineers.
Complicating the rescue effort was the uncertainty about the integrity of the bridge, parts of which remained off the ground, much of it inclined, local media reported.
This is a breaking news story and will be updated. Check back for the fullest version. Follow HuffPost UK on Twitter here, and on Facebook here.